Comprehensive Quality Program Execution
Our project managers are skilled in multiple dimensions of co-pay card project execution and are quite simply the best at what they do. They average over 15 years of executing thousands of various RX brands promotions. They are trained to recommend ways to cut execution costs without sacrificing impact.

Click the image for larger view.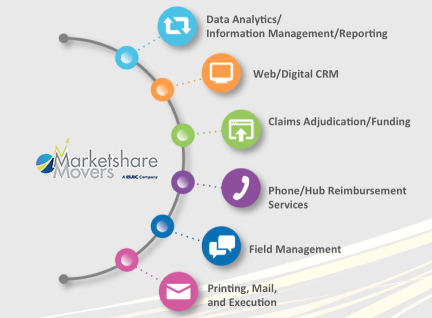 Quality Program Execution
At MarketShareMovers, we offer quality program execution, including:
Offset printing, personalization and kitting with quality and speed
Coverage and results in E-prescription channels
Roll-out of core components in brand launch
Associated direct mail, rep mail and mail grams
Patient-experience kits to collect clinical outcomes after patients use your brands
Rep fulfillment, reporting and patient 800-phone support
IVR - phone help desk support
Specialized Services
MarketShareMovers offers quality services tailored to your needs, including:
Co-pay offerings for Specialty as well as Buy-and-Bill settings
Identification of vacant territory, hard-to-see and non-called classifications
Enrollment of high cost co-pay patients who can pay down their co-pay over 12 to 24 months
List procurement and data management for clinicians, patients, retails, hospitals, MCO's, as needed
Management for digital direct-to-patient (DTP) acquisition, conversion, and execution protocols
Customized web-based projects
Rx "in-line" and competitive switch programs (small & large scale)
Market research for ALL aspects of your co-pay card efforts